Are you of legal drinking age?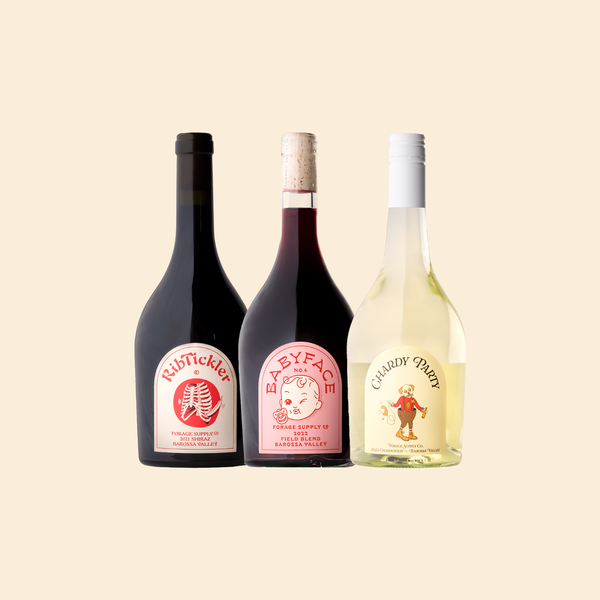 The OG 3-pack
Grab our favourite Forage originals.
The Barossa valley Chardy Party has officially come back to town.
Travelling from Hallett Valley, loaded with tropical fruit, lemon pith and citrus characteristics. Pale straw in colour with vibrant peach and white nectarine flavours.
Blow out the candles and get your party bags at the door.
Baby Face Field Blend No.5
The front chompers are in and we are wondering where those 5 years went. This freckly, independent, mischievous babytruly represents its origins of Grenache, Carignan and Montepulciano, turning our field blend into a super playful style of wine that has definitely grown into a household favourite. Still stubborn in its ways with its core confectionary aroma, balancing the bubble gum, turkish delight and musk lolly flavours with elegance this little baby is ready for school and dinner dates are backon the menu. Chilled or room temp - you decide.
This Single Vineyard Shiraz comes from the Rogasch's hill block in the sub-district of Tanunda, right in the heart of the Barossa. The colour is deep, with a black core and a vibrant purple hue. It has aromas of liqourice, anise and vibrant blue fruit with a hint of choc-mint. The palate is classic Barossa Shiraz, with a rich, dense core and a soft, blue fruited finish. Enjoy now or keep it in your cellar for 7-10 years if you wish!